8 October 2014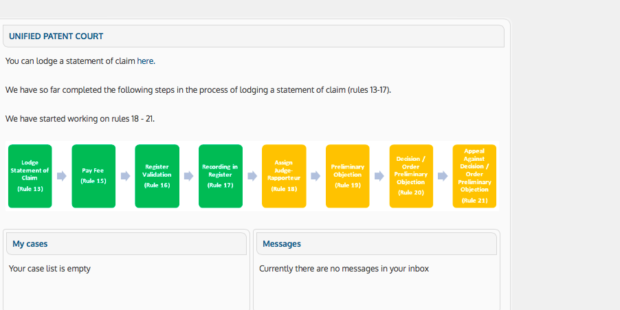 The UPC has revealed the prototype of its case management system. It is based on the UPC draft rules of Procedure 13-28, allowing testers to file an infringement claim. Feedback from testers will be used over October and November 2014 to help the UPC to continue configuration of its case management system and evaluate its procurement process.
The purpose of the prototype is to test the viability of a cloud-based, configured system for the UPC, where data is stored by a supplier and can be accessed securely from any location.
This trial comes after workshops organized by the UPC with patent lawyers throughout Europe which highlighted three recurrent issues:
"Roles-Based Access – There are strict legal requirements for protecting access to certain patent information and Lawyers want to be able to control access.
Usability – Several Lawyers demonstrated current eFiling systems across Europe and highlighted usability issues; we want to use what is good from other systems and we don't want to make the same mistakes.
Ease Document Management – Identifying documents and searching content were key to users' working patterns; being able to quickly identify the type of document and current status." (http://prototype.unified-patent-court.org/selfservice/web/index.html)
The prototype e-Filing/case management can be accessed here.
By registering to the website you will be able to lodge a fictitious statement of claim divided into the following twenty-four sections:
The prototype offers of course the opportunity to give feedback by clicking on the "Send Feedback" tab at the bottom of your statement of claim screen.
The UPC is planning a full, open procurement process, with publication of the procurement notice in the Official Journal of the European Union in November 2014 and contract award in summer 2015.